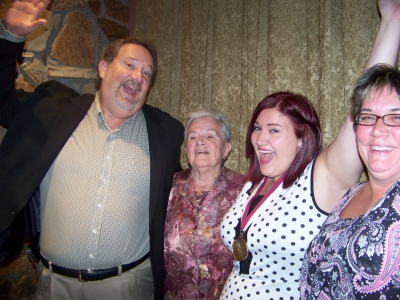 Taking a break from my "keeping it together" posts this week. Today, Feb. 3rd, is a milestone day. Not for Anna. For my younger daughter, Mary. She turns 21 today. It's a bittersweet day, as all milestones are. Today, Mary is excited to be able to go to Applebees and order a Mudslide. And Anna should be going with her. But she can't. She never will.
This makes me incredibly sad.
But let me tell you what doesn't. God knew what our family needed when He gave us Mary. I worried all through the pregnancy that I would have another sick baby. I couldn't imagine trying to take care of two screaming, inconsolable children. I begged God for mercy and He gave it. Mary was a contented baby, which allowed me to take care of Anna's many needs as well as love on my new baby.
As Mary grew, I knew she was special. She was the only other child Anna would interact with. Mary instinctively knew what Anna liked. She knew how to draw Anna into play. They laughed and played all the time. But Mary kept growing and developing. Anna grew, but her development was so slow. Still, we had hope, and Mary was there always to help and encourage. That was before Anna started having seizures. The whole game was changed then. But that's another story.
Because of personal beliefs and other reasons, we decided I would homeschool Mary. I did it for nine years and got to know my daughter in a deep way I never would have otherwise. It gave us time to talk and play and learn. Anna required so much care, Mary would often be left out as we took care of doctor visits and emergency runs. Homeschooling gave Mary one on one time with me and I believe that helped her grow up without resenting her sister.
Mary is someone who encourages others. She loves to have fun, has a great sense of humor, and family is very important to her. She loves God and strives to understand His often confusing ways. She is one of my best friends. I like her as much as I love her. And Mary can hold Anna through a seizure like a pro. She still loves her sister and is prepared to be her guardian someday. This is not something that is easy to look forward to. But she's prepared to do it anyway.
So, today, I am torn. She is in college, preparing for a career doing what she loves; video editing. She's an honor student, has a ton of friends and big plans. Anna will never have this. But Anna doesn't know the difference. I do, and that's the problem. I can't seem to let go of the great sadness every time Mary or Scotty (my son) or my grandchildren hit a milestone or have something really great happen in their lives. I grieve the loss of a normal child every day. The pain never goes away. Do you know how hard it is to live like this?
And this makes me feel selfish. SIGH. I'm a mess, aren't I?
Does anyone else know how I feel? Am I alone? Please share your feelings and let's encourage each other today.