Stares and Storytime
Sunday, April 12, 2015 by pam
We took Anna out yesterday to a Storytime event an author friend of mine was hosting for her new book. I wasn't sure if that was the best idea because Anna can be noisy. And there's always the chance of seizures. But I wanted to support Kathy, so off we went.
We got there just in time for it to start and we wheeled Anna to the back. She looked around at all the colorful art projects hanging on the walls. Didn't seem impressed. HA! That's my girl. Anyway, Kathy began the program and introduced the young lady who had illustrated the book and a 12-year-old girl who played the violin for the audio book. They were both there for the event. What a nice surprise to have music accompany the story!
Anna LOVED it. As soon as the music started, though, so did her mouth. She babbled and pointed and laughed. I knew it was disruptive, and people looked, but we did our best to keep her volume down and we got through the program, which was at least half an hour long.
This morning, I learned some friends of mine - moms who have special adults, too - their kids are going through some hurtful times because they ARE aware of other people. It breaks my heart so much, I can't tell you. And I am thankful Anna has no idea. All she cares about is bringing others into her joy, as you can see in the picture below. She was sharing her joy of the music with her daddy.
It also has made me feel thankful God brought Anna into my life just the way she is. That having her has changed my heart in ways that are eternal. And the people who stare or comment or (worse yet) ignore our kids have NO idea. It's their loss and they are oblivious.
Will I feel thankful tomorrow? I have no idea. But I wanted to share it with you while I was feeling it.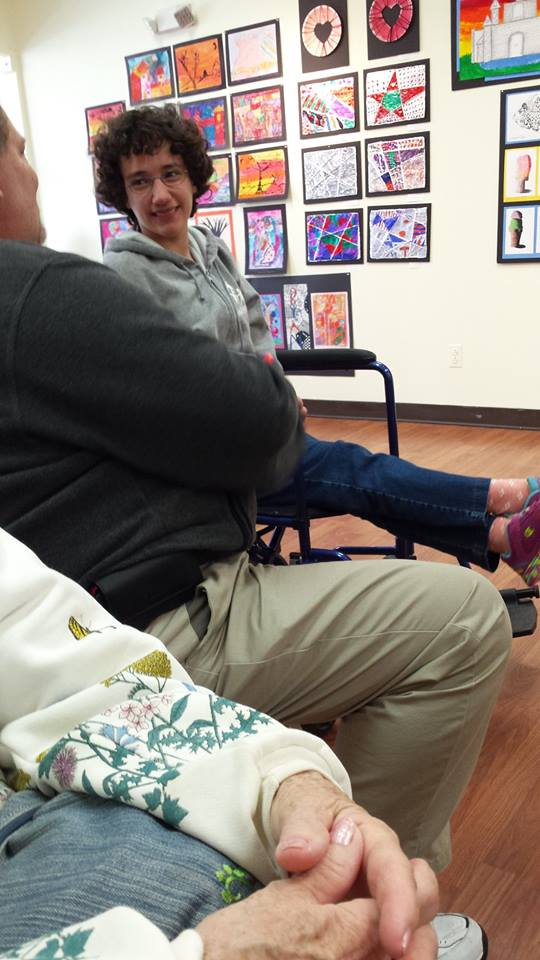 ---