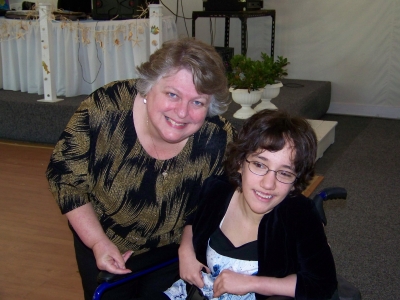 (Anna and her respite care worker, Sue. 2008)
I've been reading some posts on Facebook from parents with special needs children, especially autism. Some are struggling with physical issues, like their children hitting or kicking or biting. Anna did these things when she was younger. Any type of transition was devastating to her, even just leaving the house to get in the van or on the school bus. I see parents asking for help in this area all the time. What I don't see are parents, like me, who struggle with grieving the loss of a normal child.
When we are pregnant, we pray for a healthy child, right? We don't ask for special needs. We don't want special needs. Why then, do people who don't have a special needs child think we're somehow blessed? Anna is 22 years old. I've been grieving the loss of a normal child for about half that time.
She was 3 months old when I was positive something was wrong. Suspected it before, but after visiting a friend whose baby was the same age and watching them side by side, I knew.
But I didn't grieve yet.
I spent months bugging the doctor. "Something is wrong with Anna." I said at every visit. She only said, "All babies develop differently." I bugged that woman for almost a year before she acknowledged something was wrong with Anna. Anna was 11 months old then. She started the Early Intervention Program at 18 months.
I still didn't grieve.
Anna started special needs preschool. Then a special needs school. I still didn't grieve. I was determined to beat this problem. Anna was doing well. She could do simple math problems, was pre-reading, and putting 5-6 words together in a sentence appropriately. Yes, we counted every word. That was at age 10.
Then puberty hit at age 12 ½. Her seizures increased dramatically. So did her medication. And she lost almost all her skills. That was 10 years ago.
I began to grieve.
During that time, I watched my younger daughter, Mary, grow and pass Anna. With every milestone Mary made, I rejoiced for her and grieved for Anna. I've watched my grandchildren grow and pass Anna. I rejoiced for their milestones and grieved for Anna. I've watched my nieces and nephews grow and pass Anna. I've watched friends' children grow and pass Anna.
Anna should have graduated college this year. I should be working on an empty nest. My grief is full blown and has been for a long time. And bearing such grief is hard and heavy work.
How does a person carry all this grief? God has brought special people into my life to love Anna and love me. Yes, I still grieve, but I don't do it alone. God is close to the brokenhearted. I receive strength and encouragement from so many people. Are you grieving today? Let me know so I can pray for you and help you carry the burden. You are not alone.