Happy 22nd Birthday, Anna!
Wednesday, May 15, 2013 by pam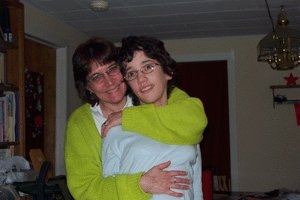 Happy 22nd Birthday, Anna! I can't believe you're such a lady already. It's hard because you're still a child in your mind. Mommy and Daddy love you and we know you love us back. It's such a blessing to get a hug from you, to know you love us, too.
With each passing birthday, I can't help but wonder what you would be doing if you weren't autistic. I often dream of your aspirations, goals, and accomplishments. You'd be graduating from college this year. Maybe you'd have a serious boyfriend. You'd be best friends with your sister, Mary, and your brother, Scott. And you'd be so proud of your niece and nephew. We'd be getting ready to move you to an apartment someplace wherever you got a job. You'd be so excited to be on your own! We'd give you advice and you'd say, "I'll be okay, Mom and Dad!"
I imagine you'd be doing theatre and singing and dancing. Maybe going on short term mission trips and having great compassion for orphans and the elderly.
You have such love and life in you now - I know you'd be a force to reckon with if you weren't hindered!
Today, I will try not to grieve the loss of a normal child, but my heart hurts with all the "what ifs" and I can't help but weep for myself. You have no idea, sitting there playing with your toys and watching Willy the Sparrow (your latest favorite.) And I know you'll cheer when I show up with pizza at your program at lunchtime.
In spite of everything, all that I wish were different, I still love you. My shuggey bear. Happy Birthday!
---