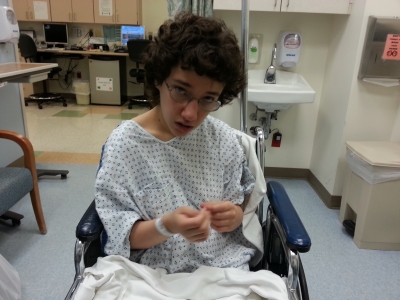 This week's blog post will chronicle Anna's surgery to replace the battery in her VNS. A Vegus Nerve Stimulator is a device similar to a pacemaker, but for the brain. It helps decrease her seizure activity. She had it implanted near her heart 8 years ago in April. We discovered in Feb. that the battery was nearing the end of service. So, we are having surgery today to put in a new battery.
Surgery for children is hard enough, but a child like Anna adds a new dimension to the mix. She doesn't understand why I'm not giving her breakfast. She doesn't know why she's wearing PJs instead of regular clothes. She has no idea what's going to happen today, even though I've told her. I have to rely on God to help her understand.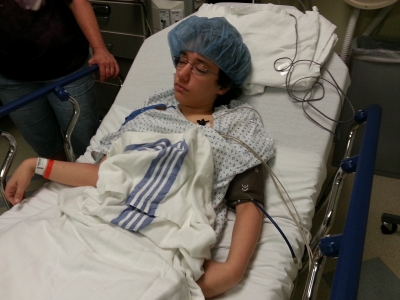 Surgery was at 830am. We got to the hospital at 715am. Things went smoothly until it was time for the IV. Since Anna couldn't eat or drink, she was a little dehydrated. It took them 5 tries to get the IV in. It was quite distressing for us all. So many people around her bed! She was so upset and confused. You can imagine. One person after another tried to get that IV in. Finally, the 4th person to try got it. Christiana is good hospital, but it's not a children's hospital. However, everyone was understanding and so good with us and Anna. As soon as the IV was in place, they gave her a little sedation. And a little sedation is not a bad thing. I could have used some myself! HA!
I'm happy to report the surgery went well. No damage to the wires or the device, so the doc was able to replace the battery without any trouble.
While we were in recovery, we were approached by a doc who wants to talk to us about how they can make things better for adults like Anna having surgery. I'm thrilled they cared enough to ask and I look forward to their call.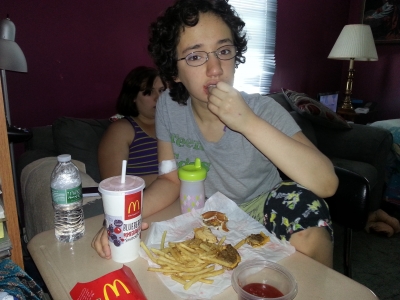 Anna is home now, settling down for a nap after devouring a double cheeseburger and fries from McDonald's. So far, she's not real sore, but where they numbed the area hasn't worn off yet.
I'm so thankful for everyone who prayed and am more than thankful for God's faithfulness with Anna. He always takes care of my girl!