A Night Out for Anna
Monday, February 25, 2013 by pam
Last week, Anna was able to attend The Cupid's Bash. It's a formal dinner dance sponsored by the Rotary Club for adults in special programs. It feels funny typing the word "adult" when referring to Anna. She's almost 22 years old, but she's still a toddler in her mind, so to me, she's still a child.
I remember the first time we took Anna to the prom when she moved to the secondary level in her school. That was 6 years ago. Parents weren't allowed to stay after the first 15 minutes. When we left, it felt the same way way it did when I watched her wheeled off for surgery. We stayed in the area in case of an emergency and had dinner. Anna's one-on-one aide told me the prom was a magical night. "Just wait," Sue said. "Something happens to the kids on prom night. They all become normal. They interact with each other. They laugh and dance and have a great time."
Sue was right. When we went back to pick her up, she was on the dance floor having the time of her life, dancing with her date, Kevin, to "Who Let the Dogs Out?" We walked her to the car and she was singing, "Hoo! Hoo! Hoo! Hoo!" She sang almost all the way home and it was a 45 minute ride.
When Anna graduated, we were sad at the thought of no more proms ... until we learned about Cupid's Bash. It happens every year! And she knew where she was going when I got her dressed in last year's prom dress. She was excited and smiled and babbled all the way there.
It feels good for Anna to participate in something just like "normal" kids. I'm thankful for the people who plan these events and for the ones who volunteer as one-on-ones for the night. I wonder if they really know how they've touched and encouraged us.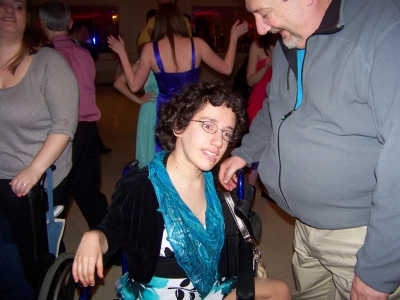 Anna with her daddy.
---