Running Away
Thursday, January 10, 2013 by pam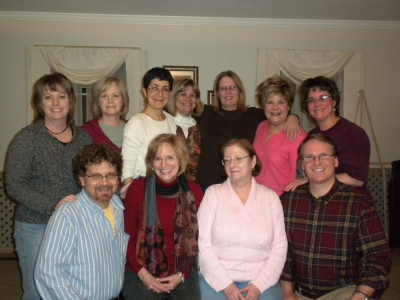 Did you ever want to run away? I do all the time. And I'm going away this weekend with my writers group. We meet once a year in Maryland at Brenda's house. That's us in the picture. 2013 will mark 10 years for us. I foresee joyful celebrating in my future!
I love the anticipation of getting away. I need to get away. If I didn't have a break now and then, I'd go nuts under the enormous weight of Anna's care. And I'm so very thankful for my husband, Daryl, who generously and cheerfully takes care of Anna so I can have a break. Thank you, sweetie!
However, running away has its drawbacks, and that's coming home. After a couple of days of stress free fun, I have to come back to Anna. And she typically wants me to immediately take her to the bathroom as soon as I walk in the door. SIGH. I wish there was time to decompress before I have to start up my normal life again.
And you know the strangest part? I actually miss her when I'm away. I worry about if she's having seizures or if she's giving Daryl a hard time. I feel like I'm forgetting to do something. And I often feel like a bad mom for going away.
What the heck?
I guess it comes down to me leaving the role God planned for me to have. I step out of that role, even though I don't like that I have it, and things are not "normal." I don't believe I shouldn't take a break – I have to – but it helps me understand the feeling that something isn't quite right. And I'm getting better at handling my feelings when I'm away. I'm learning to take advantage of the break so I can feel some refreshment even though it goes away as soon as I'm back.
So, run away! But don't forget to come back home.
---