When Covid first shut everything down, we all wondered if anything good could come out of it. Turns out, something did.
As a believer in Jesus, I lean hard on Romans 8:28 which says, "And we know that in all things God works for the good of those who love him, who have been called according to his purpose."
What does this mean? Simply, it means God doesn't waste anything that comes into His children's lives. I don't know how I would live if I didn't believe this with everything I am.
March 17, 2020, Anna's day program closed for what we assumed would be a couple of weeks. Seven months later, I learned I could hire SDEs (self directed employees) to work at home with her. Bonnie was already doing respite care, so we increased her hours and had her come during the day.
Then I hired Chardana to split hours with Bonnie. We worked out goals and made a schedule. November 1, 2020, Anna's "Home Day Program" started. It's still going on. And Anna loves it!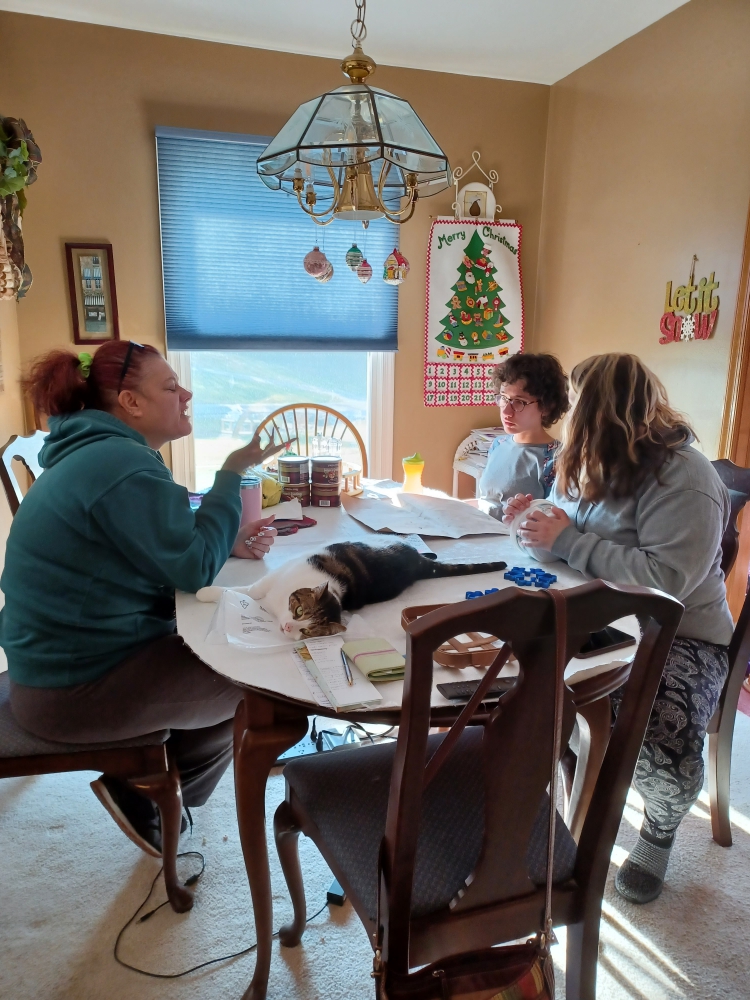 Anna does crafts and painting, says her letters and numbers, does puzzles, plays games, helps with baking/cooking, watches shows and movies, and goes on community outings.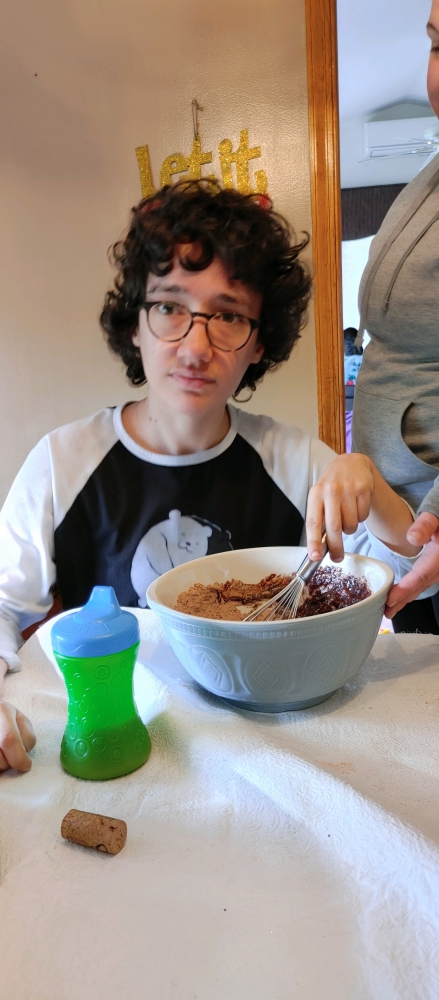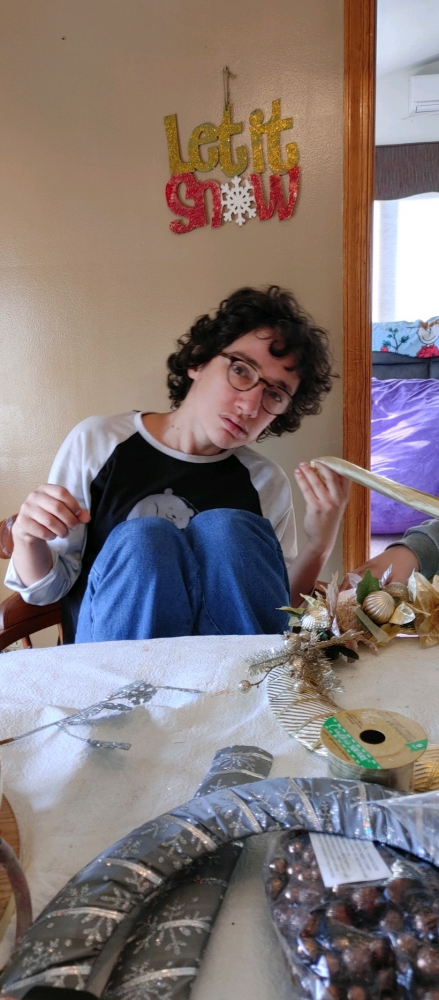 But the BIG thing we discovered is that Anna doesn't just love to paint. She's really good! She has a sense of color and design we never knew was inside her.
While she doesn't hold a paintbrush or sponge herself, Chardana or Bonnie will hold it. Anna chooses colors and what brush she wants. She moves their hand into the colors she wants and moves their hand again on the canvas. Sometimes she moves side-to-side. Sometimes up and down. Sometimes she makes dots. And sometimes she'll push the brush down and twist their hand to make a design. We were blown away!
Now, because Anna is Anna, she won't do a thing if I'm in the room. And she will absolutely not cooperate for anything if I'm trying to take a picture, so I have to get sneaky. But most of the time, I can't capture her in the process. The girls sometimes get pictures, but mostly, Anna hates having her picture or video taken.
Here is her first small painting. She did this with Bonnie on Sept. 30, 2021. Daryl and I came home from dinner and Bonnie said, "You'll never believe what Anna did."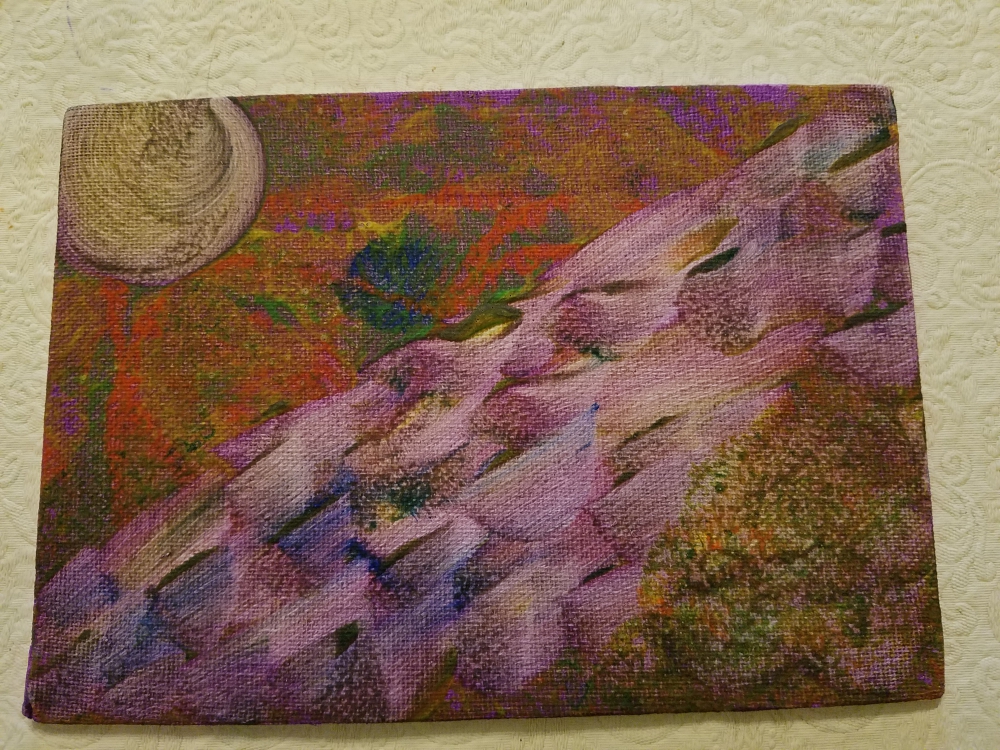 Isn't it amazing??
Here are a few more: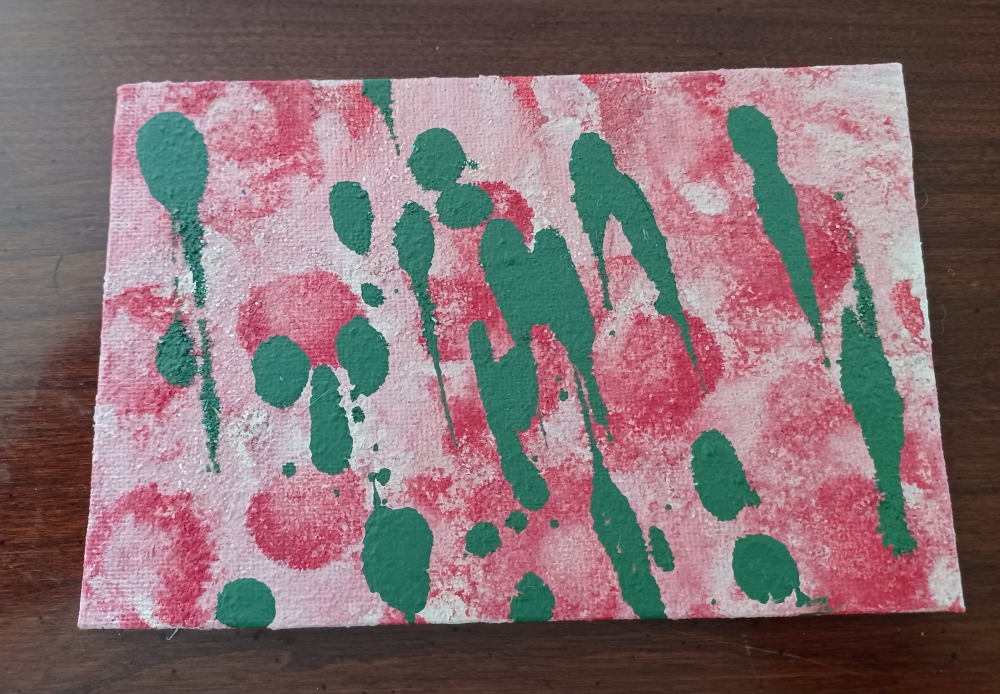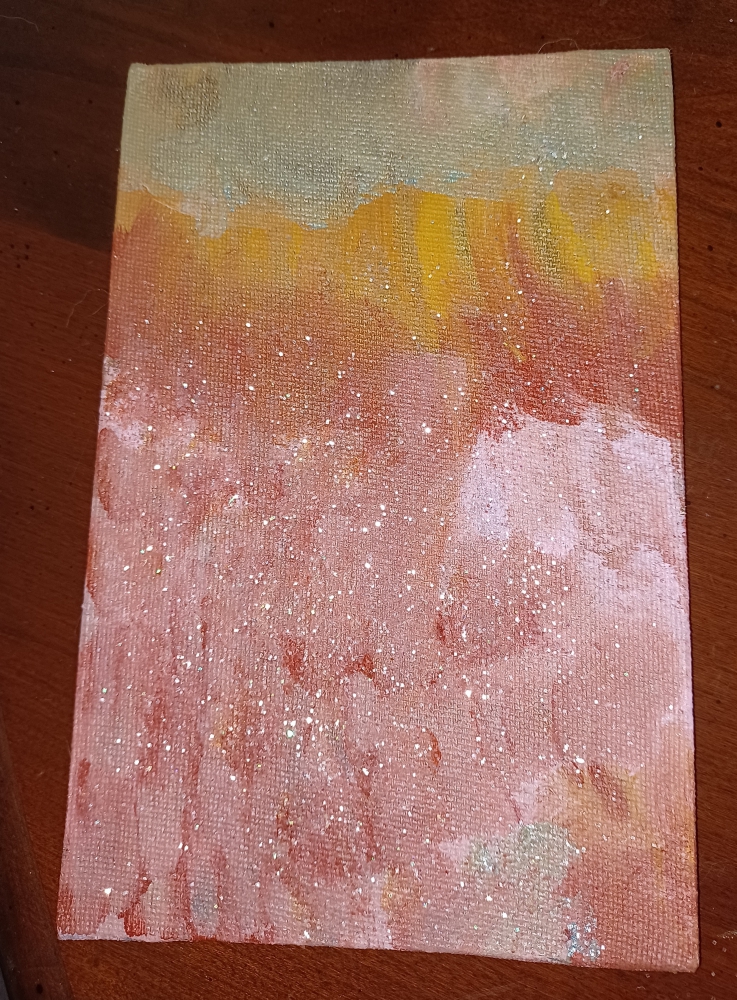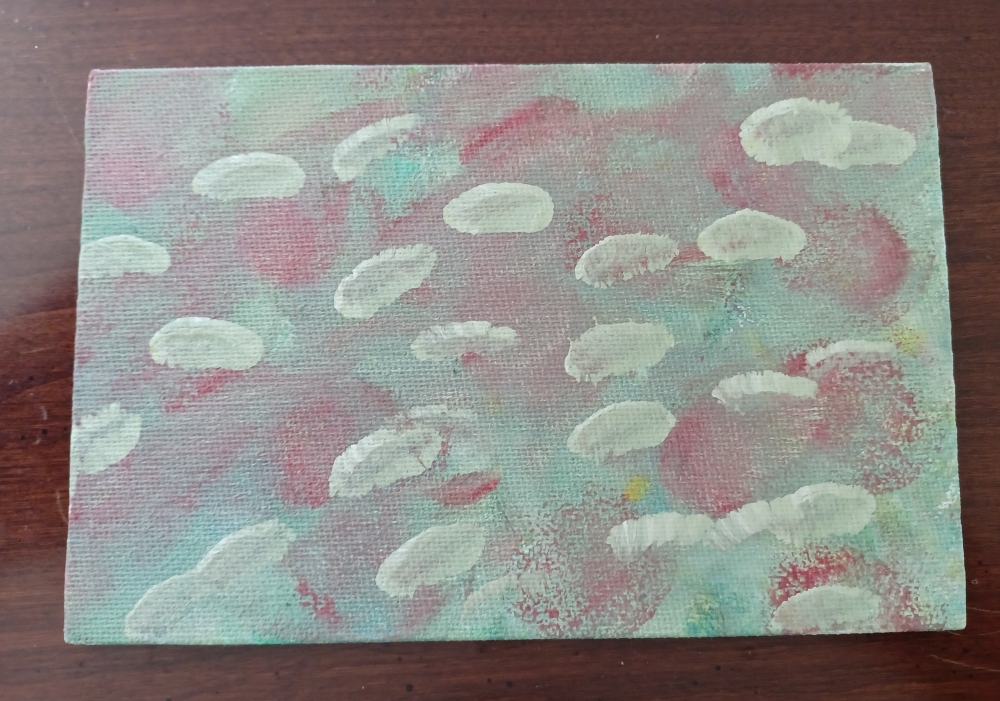 Anna is always ready to paint!
But here's the big thing … Chardana got her a LARGE canvas for her birthday this week (Monday, May 15th) and on Tuesday, she got things out so Anna could paint on it. I got a quick picture before they started and then went into the sunroom.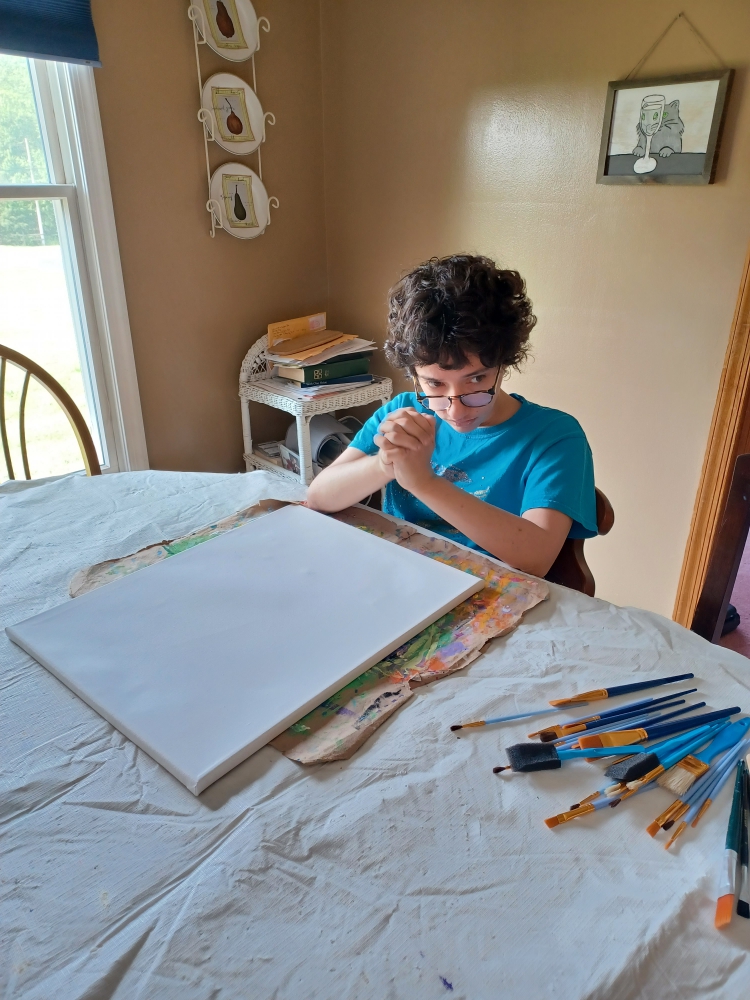 A little while later, Chardana came into the sunroom to show me what Anna did. She said, "I swear to you, I only set things out. Anna picked the brushes and the colors. She moved my hand. And she let my hand go when she was done."
Then she showed me
*
*
*
*
*
*
*
*
*
*
*
Are you ready for this??
*
*
*
*
*
*
*
*
*
*
*
Seriously ready??
*
*
*
*
*
*
*
*
*
*
*
*
*
Your mind is gonna be blown. I know mine was. In fact, I cried.
*
*
*
*
*
*
*
*
*
*
*
*
*
*
*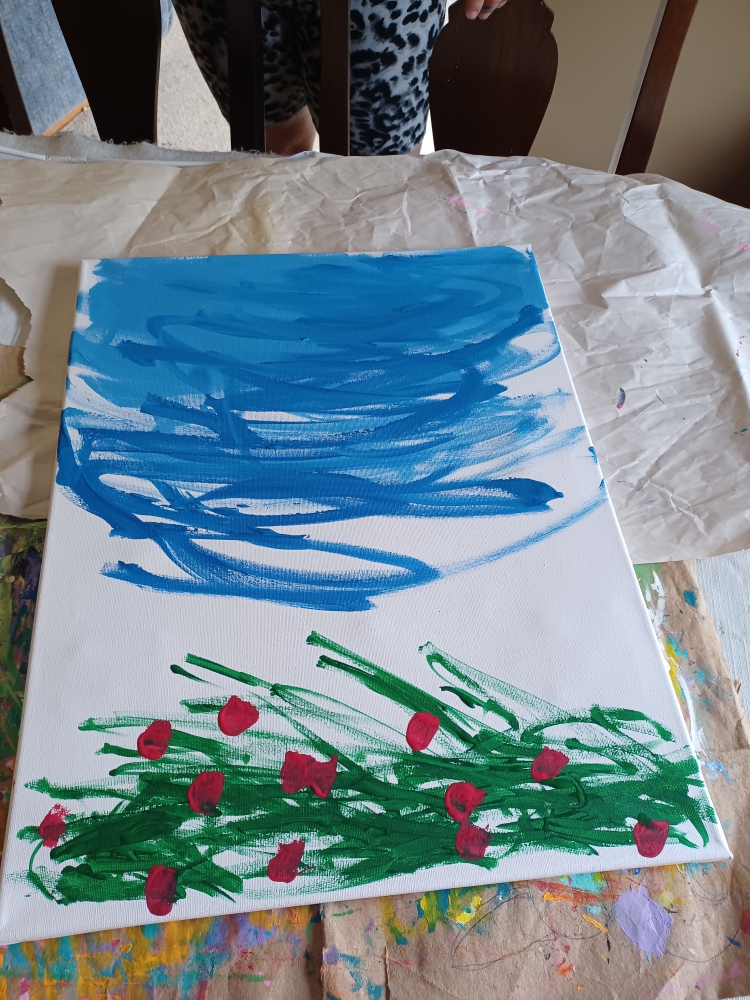 Y'all realize what my girl's favorite thing is, right? FLOWERS!! Anna painted a field of flowers!! Oh, if only Bob Ross was still alive! I wish I could show it to him. We watch him every morning! (Anna did the small paintings before she started watching Bob Ross, so the artist was inside her all the time!)
What good was Covid? Well, it was NO good ……. BUT GOD.
God used it to bring out the creativity lurking inside Anna. She couldn't tell us. Maybe she didn't know. But if not for Covid, we would never have created a Home Day Program. If not for Bonnie and Chardana, who love Anna and are creative women, we would never have known Anna was an artist.
God is faithtul to His Word! Never doubt it, friends. Glory to His Name!!