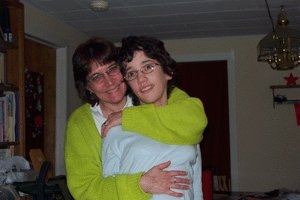 Can I say this? I hate being the parent of a special needs child. It never ends. It goes on and on and on. I want my life back. I don't want to do this anymore!!!! I'm sick and tired of the constant worry and frustration. I'm always on call. I never, EVER rest. And I'm SO tired, when I do stay in bed after Anna gets out, she inevitably has a seizure, falls down and gets hurts. I'm sick of doctor's offices, hospitals, blood work and ER runs. I'm tired of fighting with the school and child study team. I can't bear the thought she might outlive me. I can't stand cleaning up her messes, feeding her, brushing her teeth, getting her bathed and dressed and taking her to the potty.
Oh, and let's not forget her constant babbling. Sometimes, she'll say something I can understand, like, "aw, Mommy," (which she'll say 25 times before I tell her to stop) but most of the time it's words from a video or simply repetitive sounds. It's like Chinese water torture. I don't want to do this for ONE MORE MINUTE.
SIGH.
Where is the blessing in a child with autism? Where is the blessing in a child so self absorbed, she doesn't even care about her own safety? All she knows is what she wants when she wants it. She cares nothing for anyone's feelings. She gives nothing back, except for an occasional hug – and that carries little weight when the responsibility and problems seem insurmountable. I want my life back. I want my life back. I want my life back!!
And on the heels of the frustration and pain comes guilt. You know what? I'm sick and tired of feeling guilty, too. I'm so tired of beating myself up over what I determine is a failure on my part to be a good Christian mommy. I'm tired of feeling judged by people who don't have a child like Anna. And I'm tired of the condescending attitude of parents who do – and seem to enjoy every minute with their child. Are they for real? I mean, I'm not putting them down. I wish I could get there. THAT would be a blessing.
Worry, stress, exhaustion, frustration, guilt. All these things rule most of my days. I get very little relief from them. When I do get a break, it doesn't last long before it all comes crashing back with a vengeance. Dear God, please help me!
The cry for help is where it starts. What you've just read is not how I feel every day, but there are times when it overwhelms me and I throw my head back and wail. It helps to get it out.
Where are you today? Share with us, if you want. The burden will grow lighter, and while the circumstances of your life won't change, you'll know someone has heard you.