I want to share something else good regarding Anna's words. :)
Okay, so as most of my readers know, Anna isn't real verbal. Sure, she babbles a lot and talks nonsense, even though she's capable of real words. But sometimes, real words bust out.
I was getting her ready for her bus yesterday and she ALWAYS fights me, and yesterday was no different. And I keep up a constant encouraging talk, saying things like, "Come on, Anna, it's time for program. You're gonna see your friends, and play games, and do crafts. You love program!" So, she was wiggling and walking in circles, as usual, while I was trying to zip up the harness she wears for safety on the bus and I'm praying the usual, keep her safe and happy prayer. We always wait until I see the bus coming before getting her shoes on or she'll kick them off and then there's NO getting them back on, and it's too cold to drag her out in barefeet.
So, I'm putting on her boots and she's kicking and saying, "no, no, no ..." as usual, but I got them on and she indicated she wanted her gloves on, so I picked them up and put on one. As I was putting on the second one, she said, "Go see friends" just as clear as clear can be! And she walked out to the bus, smiling and happy.
This is HUGE. Huge. Yay for friends!!!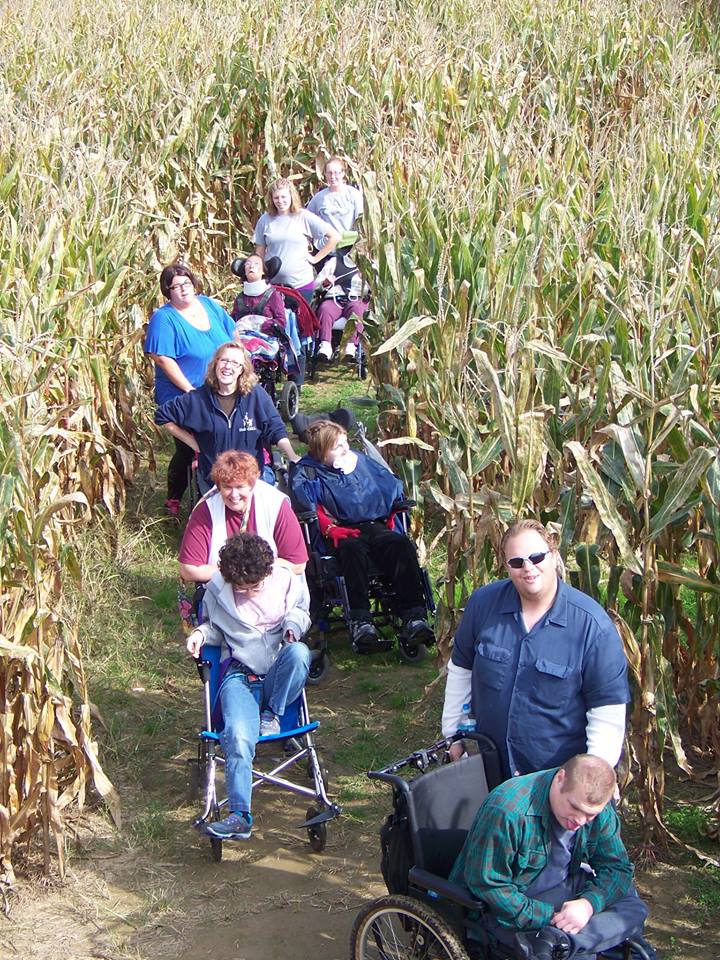 This picture was from a few years ago – a trip with her "friends" to the cornfield maze. She's the second on from the bottom. Anna's day program keeps everyone busy!