hey FFFers! I'm excited to announce the newest anthology I have a story in: Who's the Monster?
Who really is the monster in the Frankenstein mythos?
Creator or Creation?
Who is the victim, and who is the victor?
Join us as we explore variations on the theme of Frankenstein -- doctor and monster -- in modern-day, historic and fantasy settings, through the eyes of creator, creation, and those they encounter along the way. We'll visit some friends and settings we've met before, and new ones to make you smile, shiver, and shed a tear.
Guaranteed, you'll never look at a mad scientist the same way again.
RELEASE DATE: October 15th
I have some copies already! WOOT!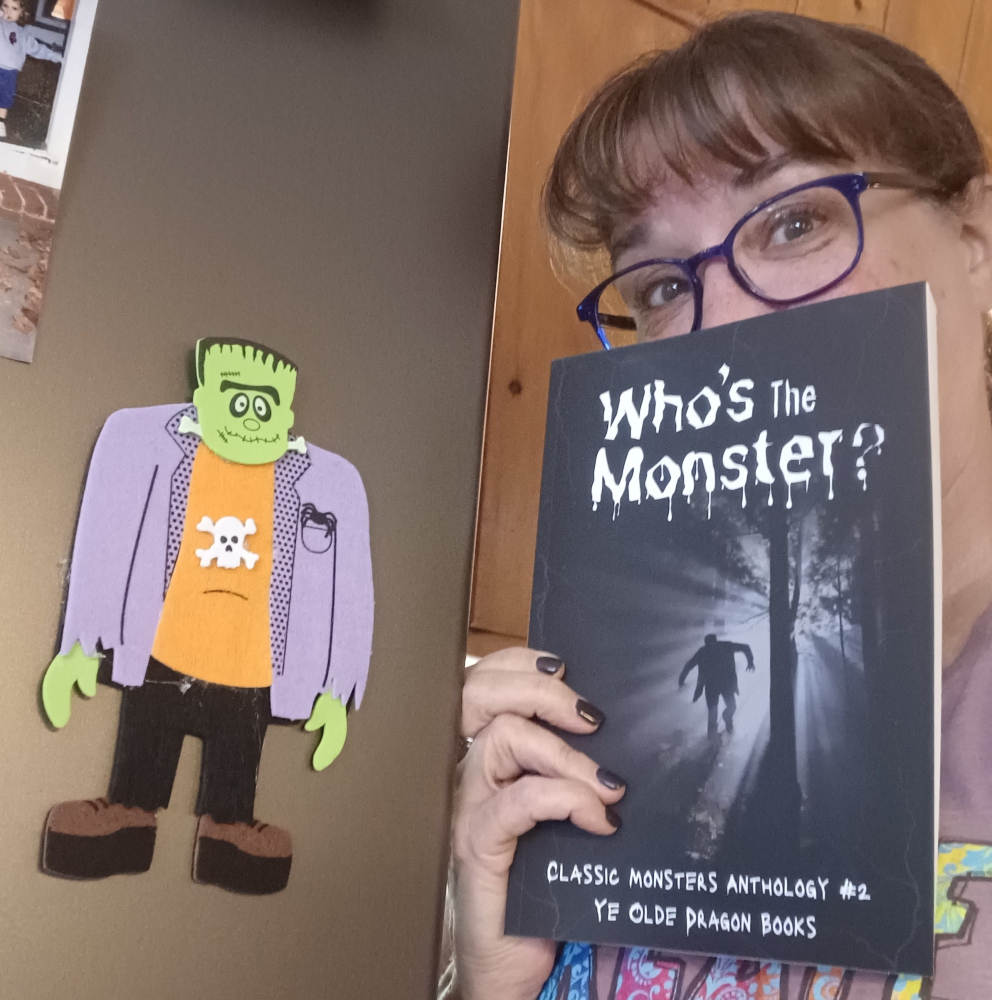 I couldn't resist taking a picture of it next to my fridge. Haha!
The publisher, Ye Olde Dragon Books https://yeoldedragonbooks.com/ is sharing excerpts from each of the ten stories on their Facebook Fan Page https://www.facebook.com/groups/1436254603241495 and so far, they look AMAZING!
Here's what they shared from my story, Fix and Refresh:

"Hi, welcome to Chapters and Pages!" Frank said for the hundredth time.The door jingled as person after person came in. Everyone chattered and talked about the bookstore. They were so happy to have one in their little town of Geneva.
"Mr. Steinbrook, can you help me find a book about pirate ships?" an eight-year-old boy asked. "Me and my grandpa used to read pirate books." He looked down for a moment. "Before he died."
"Sure!" Frank replied. "I bet you had some great times with your grandpa."
The boy told Frank his name was Timmy. Timmy Shoemaker. Frank had the strangest feeling of déjà vu. It grew stronger as he pulled out an age-appropriate book and handed it to Timmy.
The day went on, and often he had the feeling he'd had similar conversations with people—strangers—or he'd helped them find a book that was familiar to him even though he'd never read it.
The freakiest part of the day was when he had given a middle-aged woman, Mrs. Ratherly, a cookbook for seafood. He had glanced at his hands and got the feeling they weren't his. For a couple of seconds, he couldn't feel his fingers. Then it passed. His hands were okay, but he didn't feel okay.
As he turned the key to lock up for the evening, he reflected over the day. It had been a great success. He knew it wouldn't be as busy every day as it had been today, but it was clear Geneva needed this bookstore.
As he pulled the key out of the lock, he had the same feeling about his hands.
"Stop it," he said out loud. "Stop it!"
He shoved the key into his pants pocket and began the short walk to the convenience store for a snack.
His loafers clicked on the sidewalk as he strode. He liked the sound. It was comfortable. Familiar.
But how could it be? These shoes were brand new. He'd never worn loafers before. He had thought he needed something a bit nicer for the store.
Frank slowed his steps. Again, the feeling as though part of his body wasn't his. First his hands, and now his feet. He stood on the edge of the circle of light from the streetlamp. Was he imagining things?
I think this story is the best one I've written yet. I'm really learning to love writing short stories!
Want a copy before Halloween? Contact me below and let me know! They will be retailing for $14.99 but you can get a copy from me for $12. Plus shipping, if I need to mail it to you.
And just for fun, here's a picture of me and Daryl 6 months before our wedding.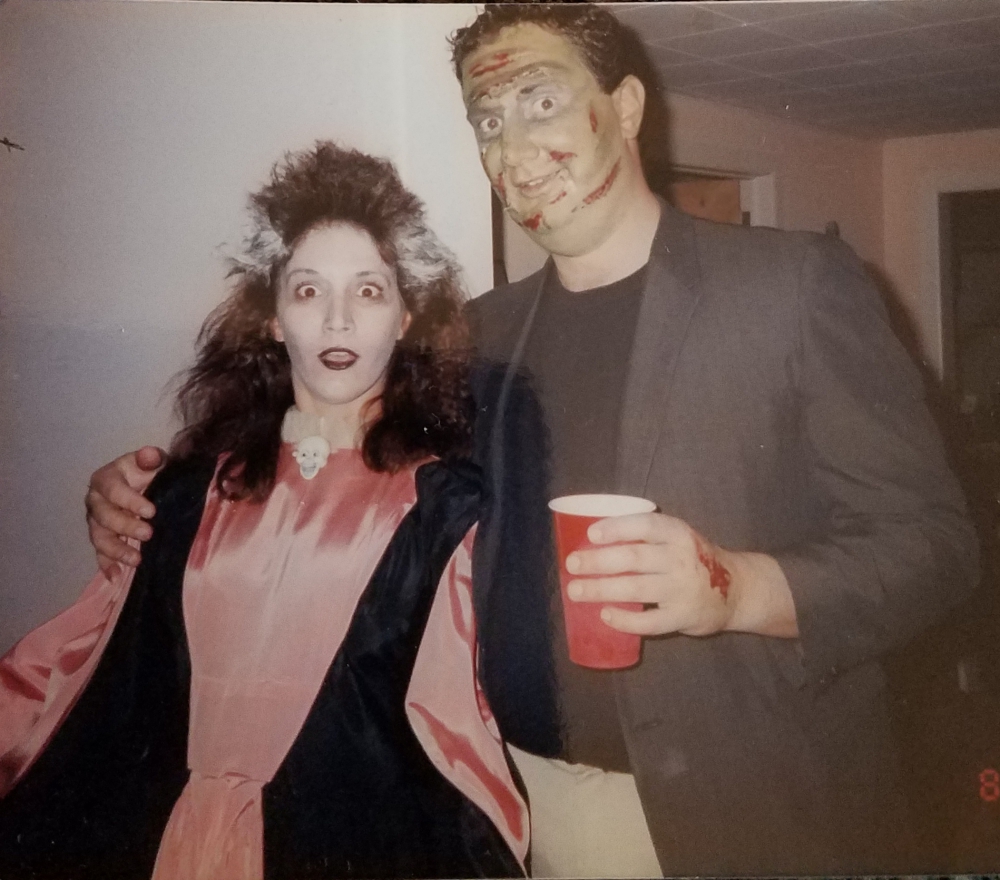 And 6 months before our 30th anniversary.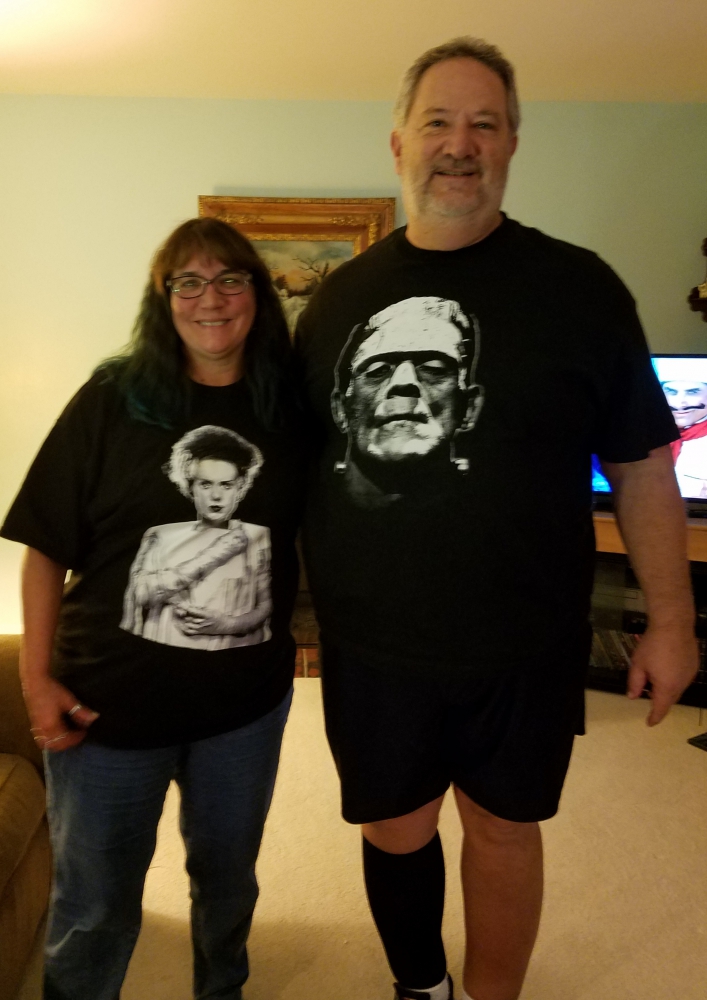 Was I destined to be in this anthology or what??