Hey FFFers! Check out this new anthology!
Mythical Doorways – Eleven Tales of Magical, Mysterious, Mythical Doorways!

Step through portals and into adventure as the authors of the Fellowship of Fantasy take you on another journey into fantastic worlds. Travel through time, space, and realities to encounter monsters, mechanical foxes, and the Fates themselves. You'll fly with dragons, save implausible beasts, and perhaps find your true home. Choose your path wisely, for dangers lurk in the lands beyond.

In the third anthology from the Fellowship of Fantasy, eleven authors promise you journeys into fairy lands hidden within the modern world, futuristic universities, and lands of ancient myth. So what are you waiting for? Cross through our Doorways for the adventure of a lifetime!
I'm excited to read this anthology! I already have mine on Kindle. I thought it might be fun to reach out to the authors with a serious question and a fun question. I was able to touch base with 10 of the 11 authors. Enjoy their responses!
Please give my readers some advice for writing a short story. It's a great way to break into publishing, but it's not as easy as it seems.
Oh, and let us know what you nosh on while you're writing.
Lauren Lynch (What Lies Ahead)
I've been told that it's important to tell a complete story, even when it's short — and mine do have a beginning, middle and end, but because I've only published short stories as prequels or bonus material to my historical fantasy series I think mine have a tendency to tease. I'm not sure I'm worthy to give advice on the subject, but I imagine one of the most important aspects of short story writing would be in the editing — to distill it down to its barest essence. The process is not easy, so be true to your inner muse and write what you enjoy reading!
While I write, I nosh on nuts … usually smokehouse almonds or cashews. What really fuels me, though, is the tea. Hot Darjeeling is a favorite :)
A.J. Bakke (Cosmic Cravings)
One thing I've learned about writing short stories is to keep the plot simple and straight forward.
I drink coffee while writing first thing in the morning with a bunch of cats piled on my lap.
Savannah Jezowski (Well of Fate)
My best advice for writing short stories...instead of writing a story and then trying to find some place to have it published (which is a LOT more work and a TONS more discouraging), I suggest finding opportunities for short story submissions and writing a story specifically for the contests/magazines you wish to submit to. This way, you are writing exactly what the publisher wants rather than trying to force a story to fit the publication. I personally have found this the most successful approach to my short stories.
I don't like to nibble on anything while I write because it requires hands and gets fingers dirty...but I do need a good cup of coffee or tea. I don't usually get to drink the whole thing because, while I'm busy writing and not paying attention, my dog Merlin helps himself. Apparently, he is a caffeine-nut too.
J.M. Hackman (Everwild)
I'll be honest, it's really hard. At least it was for me. I've always written books, so anything shorter is a struggle. I think the best thing one can do is to think smaller. Fewer characters, shorter time frame, maybe a simple goal with one obstacle. There just isn't time or space for more.
What I eat while writing: I often try to limit myself to water. (I know, I know - boring!!) But sometimes, my brain needs a boost. So I'll have a handful of honey roasted peanuts or dark chocolate M&M's. And since I hate coffee (cringes), to stay awake, I'll pour myself a small glass of Coke Zero.
Jenelle L. Schmidt (Dragon Ward)
For me, writing short stories is a whole lot harder than writing 100K+ word novels. Three things that help me are:
A) Keep the cast small. You can still do a lot of character development in a short story if you're only focusing on a small handful of characters. The more characters you have, the larger your story is going to want to grow.
B) Try to narrow the focus of the story. At its heart, what is the story about? Keeping the scope smaller and tighter helps keep the word-count down. It's a lot harder to deal with an epic quest or a villain bent on world domination in a short story, so I try to think about how I can address those same themes of danger and adventure on a smaller or more personal scale.
C) Timeline. A story that takes place in a single day is easier to keep within a smaller word-count than a story that takes a year to accomplish.
I don't usually eat much when I'm writing, as it's hard for me to eat and type/write at the same time - also, I don't like crumbs on my computer or in my workspace. But I will usually have a big glass of ice water or a cold Dr. Pepper nearby.
Heidi Lyn Burke (Jericho and the Magician's Daughter)
Advice for short stories: Rather than advice, I have what I think of as "cheats." Little things that by choosing them as your method/focus/subject you can make the writing process easier.
My favorite is condensing the timeline. A novel can take place over months and years and you'll have plenty of time to explore it, but a short story that tries to cover too much ground (time wise) is going to feel rushed to the reader as months fly by in paragraphs. Often events that take place in a day or over a few hours are the best.
I see short stories as chronicling a moment where something changes for the hero. It can be the beginning of their story (with them realizing that they want to do or be something) or just a moment of significance to them, but unless something changes for them by the end (either finding themselves in a different place/situation or just with a different outlook on life.). the read will probably feel unsatisfied as if there wasn't a point to the journey they just went on.
That's kind of how I approach them: what needs to change for or about my character and how is the best way to get them there?
I actually don't like to eat while I write. Eating takes hands. Hands are needed for typing. I might drink. What depends on the time of day. Afternoon, probably tea. Evening, probably red wine. Writing with wine makes the wine last longer. Writing with tea means "dang it, it's cold again ..." so wine is slightly preferred. I do sometimes do coffee, but that's a morning thing and I rarely write in the morning.
Donna G. Driver (The Hallway of Three Doors)
Writing short stories, whether to have them published or not, is great training for a writer. The key to a good short story is that it must be complete in itself. The main character has to have a challenge to overcome and be able to achieve that goal quickly. The art lies in making that story feel complete even though it's short. My ideas are often too big for short stories. My story in this anthology was nearly twice as long when I originally wrote it - novelette length. I had to cut scenes and prune it like a bonsai tree to make it fit the word limit. Don't think that because these stories are short, they are easier than novels. In some ways, they are much much trickier to pull off.
If it's morning, I have coffee while I write. Water or Diet Coke in the afternoon. In the evenings, it's a glass of wine. Sometimes I'll have a piece of chocolate, but I don't tend to eat while I'm writing.
Katy Huth Jones (Dragon's Oath)
Short stories are great for every fiction writer to master, especially novelists. I wrote hundreds of them back in the 1980's before I finally made my first sale to Marion Zimmer Bradley's Sword & Sorceress X anthology. Compared to a novel, a short story is more like a vignette, a slice in time with a beginning, middle, and ending that resolves the storyline. When first writing this form, I recommend keeping it simple, with one main character, a few minor characters, and a focused story problem. With speculative fiction, it's easy to get side-tracked with too much world-building, flashbacks, and complications that detract from the main character's goal or problem. Keep it as simple as possible! And have fun!
When I'm writing I forget to nosh and drink water too, which is a big problem because I am easily dehydrated!
Bokerah Brumley (Door Number Four)
Pick one event and keep the cast of characters minimal.
Also, in short fiction, you have to get right to the point, and the opening line is the hook that will take hold of your readers. I think one of the things I've learned to do is start with a great opening line and then pull out to describe the setting with two or three sentences, staring with big descriptions (like landscape or world) and then back to small (like the suit that chafes against the main character's wrist).
From that point forward, though, worldbuilding has to be done as the plot is moving forward.
I also calculate… Try-fail cycles have to begin by 1500 words or so, quicker if I can manage it. My max word count if 5K, that means that the climax is—often—going to be no later than 3,700 words (so I have time to wrap up). When I do this, it helps keep my short story pacing on track.
I like to eat merfruit!
No, just kidding, I like to nosh on salty/crunchy things. Though, I am rather fond of Ceasar salad (no croutons) with a side of smoked salmon. #NomNomNom
Laurie Lucking (Threshold)
When I write short stories, I try to limit the number of characters and stay focused on the main plot - no subplots allowed! I also stick to really key scenes in the story, which unfortunately means at times I have to skip over things I might've wanted to spend time on if I were writing a longer piece.
Pretzels dipped in hummus are my new favorite writing snack. I'm also a big fan of hot chocolate! Or chocolate in any form, for that matter :)
So, there you have it! Mythical Doorways is available on Amazon. I'm not giving you the link because I've learned it's more beneficial for the book and author if you go to Amazon and type in the title manually. It has something to do with Amazon robots, which will make them think the book is of some importance. So, please do that for this and other books you want. The authors will thank you!

I will, however, give you the link for the Facebook party this week!
Facebook Link: https://www.facebook.com/events/152283098918808/
Fellowship of Fantasy is celebrating their third short story anthology release, Mythical Doorways!

Whether they open onto new worlds or just new opportunities, doorways allow us to step through and uncover great adventures, discoveries, and risks.

Where will these Mythical Doorways take you?

Grab your favorite drink and snack on March 29th at 8 PM EST (7 PM CST and 5 PM PST) and be prepared for a fun time of chatting with multiple authors, games, and giveaways!
And isn't this a FABULOUS cover??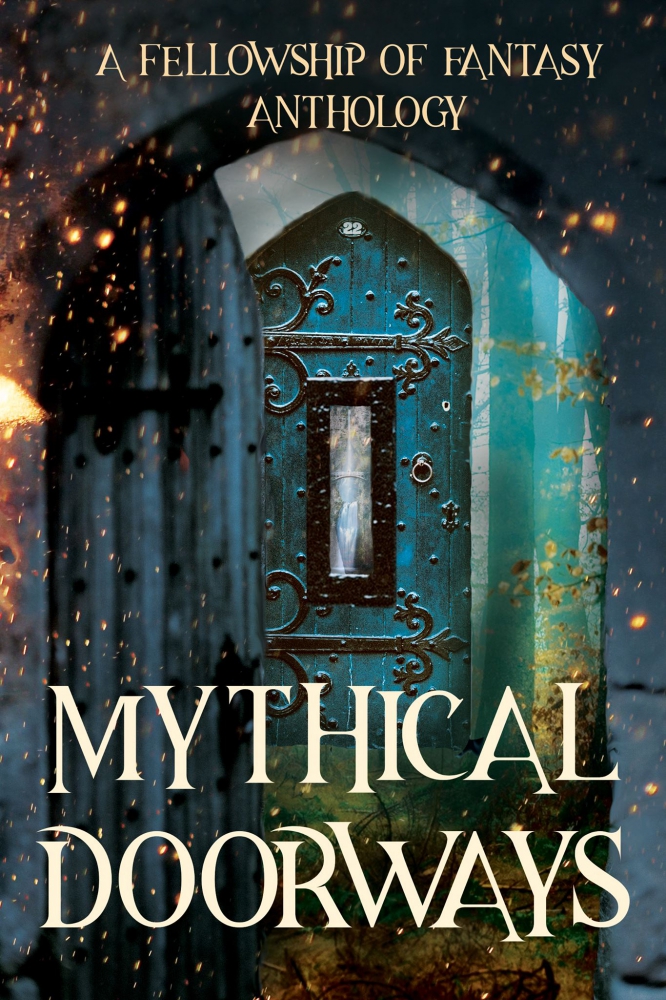 Congrats, Fellowship of Fantasy on another terrific anthology!