Today, I'm excited to introduce my friend, Jill Hackman, and her YA novel, SPARK. Jill is a fellow Realmie and I'm looking forward to spending time with her this summer at the Realm Makers conference in Reno!
FFF: Welcome, Jill! I'll post the synopsis for SPARK at the end of this interview, but I'd love to know more about how you chose the names in your novel.
JH: Thanks, Pam! One of the most enjoyable elements of crafting a story is choosing and creating names. Whether it's character names, or place names for landmarks and cities, names evoke certain feelings which add to the overall atmosphere of the story.
When I read The Lord of the Rings trilogy, I was amazed at Tolkien's ability to play with words and names (and even created languages). Most authors choose people and place names after researching their meanings. I found Sue Browder's The New Age Baby Name Book invaluable.
FFF: I've used baby name books, too. And I love finding a perfect name that has a particular meaning.
JH: Yes! In the First Prophecy of Linneah, the meaning of names is important. "World Ruler," "Bull," and "Raven" are mentioned, referring to Donalt, Taurin, and Brenna, respectively. Other names I used because of their meaning were Baldwin ("bold friend" which describes him very well), Erhardt ("honorable and brave"), and even Reina (which is Latin for "queen" because she's so queenly in her behavior). The griffins all share the same last name—Leon-Ahren which means "lion-eagle."
I did the same thing with place names, starting with the scary forest beyond the outskirts of Linneah. Silvastamen is also known as the Dark Wood (Silva is "a wood" in Latin + Taman which means "dark or black"). All the mountains were given robust names, such as Steen ("stone") and Gibor ("strong"). The cliffs that make up part of Linneah's coastline are called the Galt Cliffs. Galt is a Norwegian name meaning "high ground."
When it came to the lake lying just outside Wildamek in the middle of the mountains, I drew a blank. After much thought, I labeled it, "Indermitt", which in German means, "in the middle." Yes, it was cheating, but I was out of ideas.
FFF: I wouldn't say cheating - I'd call it being creative. :) What other books helped you with names?
JH: In Jill Willamson's book, Storyworld First, she offered a good rule when adding language to speculative fiction. Her advice is to focus on the people first, then build the language around them. I applied this rule to the names and areas where the characters live. What kind of image did I want to put forth when my characters showed up on the page? Were they elegant, mischievous, flamboyant? Adrik, the blacksmith, is a Camlo from Wildamek. The Camlos are a rough and rugged mountain people, so their names have hard consonant sounds, much like what's found in the German language.
FFF: That is so cool! Do you ever use names of people you know?
JH: Sure - authors can also pay tribute with the use of names. Linneah is a blend of my two girls' names. Every author puts a little of themselves into each story, and I wanted to honor the two people who have changed me in some of the best ways possible.
FFF: I love that! And I'm sure your girls love it, too. Thank you so much for sharing part of the process with us! Congrats and God's blessings on your novel!
JH: Thanks for having me!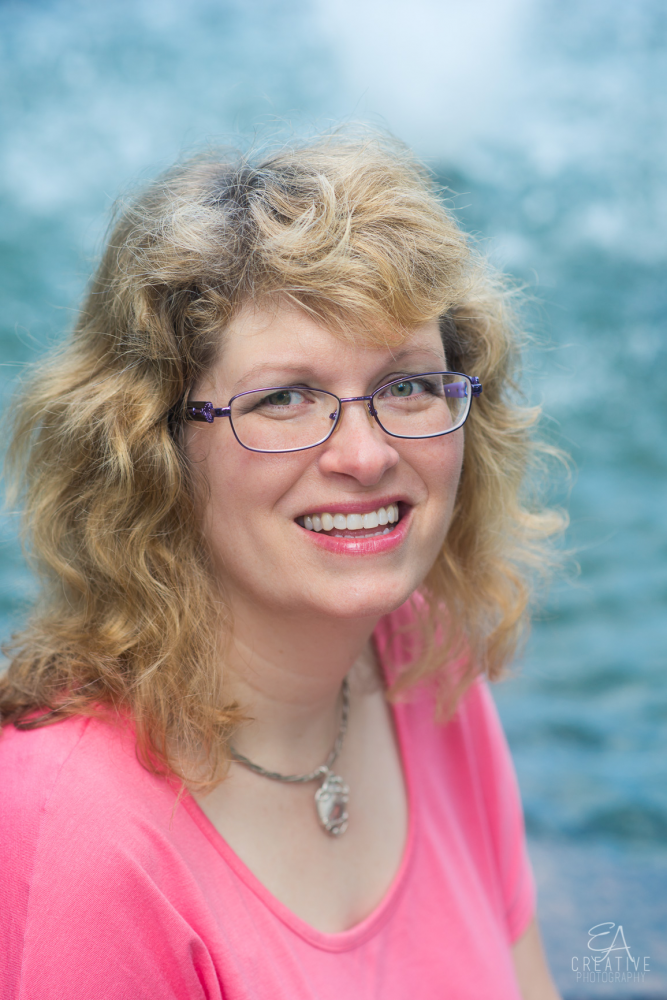 J.M. Hackman has held many positions: assistant librarian, office assistant, office manager,
substitute teacher, writer, wife, and mother. She still holds the last three. And loves it. She
received a degree in Elementary Education from Pennsylvania State University and now
spends her days writing stories, consuming massive quantities of chocolate, and looking for
portals to other worlds. You can find her at www.jmhackman.com.
About SPARK
Brenna James wants three things for her sixteenth birthday: to find her history notes
before the test, to have her mother return from her business trip, and to stop creating fire
with her bare hands. Yeah, that's so not happening. Unfortunately.
When Brenna learns her mother is missing in an alternate reality called Linneah, she
travels through a portal to find her. Against her will. Who knew portals even existed? But
Brenna's arrival in Linneah begins the fulfillment of an ancient prophecy, including a royal
murder and the theft of Linneah's most powerful relic: the Sacred Veil. Hold up. Can
everything just slow down for a sec?
Unwilling yet left with no other choice, Brenna and her new friend Baldwin (Um, hello,
Hottie!) pursue the thief into the dangerous woods of Silvastamen and beyond. Exactly
what Brenna wanted to do for her sixteenth birthday. Exactly. When they spy an army
marching toward Linneah, Brenna is horrified. Can she find the veil, save her mother, and
warn Linneah in time? And more importantly, why on earth doesn't this alternity have
Belgian waffles?
Purchase Link on L2L2 Website: http://bit.ly/2mf4Iwg
SPARK is available at Amazon, Barnes & Noble, iBook, Kobo, and any other online retailer,
and SPARK can be requested at any bookstore or library.